On May 19, 2020, Director Huang Yiquan of the Fuzhou City Jinshan Investment Zone Management Committee, and leaders of the economic development department visited Jinghui Technology for inspection and guidance. Accompanied by general manager Lin Huajun and CFO Wu Liying, Mr.Huang visited the Industrial evaporative air conditioner workshop and heater's to study more about the situation of current producing capacity recovery.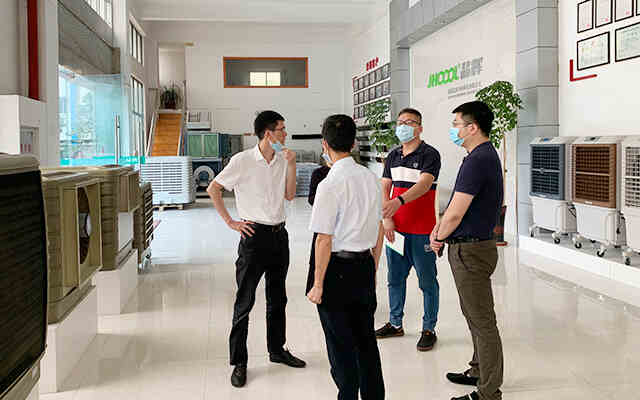 General Manager Lin reported to Director Huang about the basic resumption production situation of JHCOOL under the epidemic.Mr. Lin introduced that during the worst epidemic period, the enterprise couldn't start work as scheduled, and many orders haven't produced before lunar new year, continuous new orders also facing same situation during the Spring Festival holiday.Fortunately, with the strong support of the government and management committee, work resumed on February 15th, 90% of the employees arrived, and the operation of downstream suppliers basically stable which didn't affect production.From resumption work to present, the workshop employees overtime every day, finally didn't disappoint customers' trust and finish mission on time.However, due to the global spread of plague, international orders declined slightly in the second quarter. Our business is not limited to overseas, but also domestic.The plentiful products, exquisite appearance, and excellent quality are foundations of JHCOOL.In this special 2020 year, we don't lay off staff but recruitment, which means optimism expect.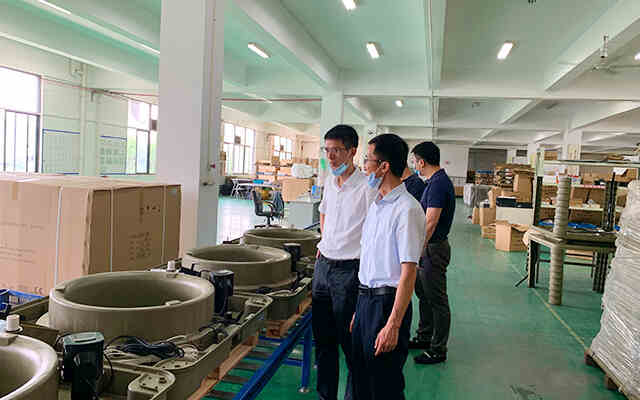 Director Huang highly appreciated the outstanding performance of JHCOOL and explained to Manager Lin that Fuzhou recently introduced a series of favorable policies to key enterprises, from optimizing service guarantees, increasing incentives, and implementing assistance.JHCOOL as the key enterprise of favorable policies, the leaders of the municipal and district governments highly focus company's situation of resume production.Manager Lin expressed gratitude to the government's care and support. We believe in a better future by working together and strengthen confidence.