In recent years, the application of evaporative air coolers in workshops, storage logistics, distribution centers, animal husbandry and other industries growth rapidly, evaporative air coolers providing energy-saving ventilation and cooling solution for these places.
However, most of industrial evaporative air coolers with axial fan, the disadvantages of axial fan are high noise, and hard to increase air pressure. Based on the previous technical level, if you want to reduce noise while maintaining the same airflow and air pressure, the usual countermeasure is to use centrifugal fan instead of axial fan on evaporative air cooler, that can solve the noise problem, but power and cost increased. Therefore, solving the noise and air pressure problems is extremely urgent.
With the industry innovation tend of evaporative coolers, JHCOOL launches the newest JH18-B series to solve the pain points.

The JH18-B series evaporative air coolers are designed to optimize the fan system based on aerospace engine mechanical principle. Lower noise, higher pressure and more efficiency, greatly improved mechanical performance.
JH18-B series fan likes a turbine, which can increase air pressure with very low noise.
The fan system is composed of 3 parts.
1. The inner cylindrical tub can reduce air resistance.
2. The centre part with 11 blades to ensure strong air pressure.
3. The outer grid is integrally formed with fan tube, it plays an important role of gathering airflow.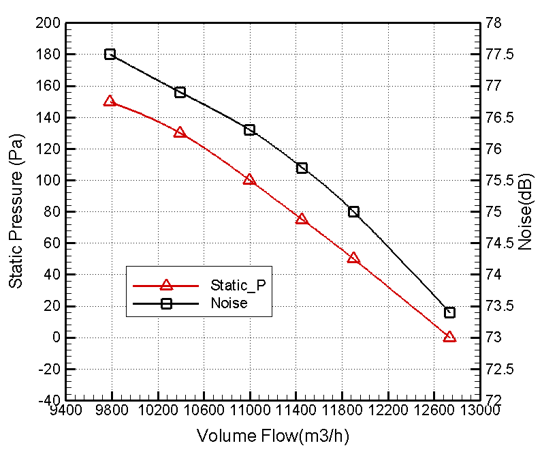 It can be seen from the curve graph, with the extension of air duct, the airflow still remains 9800cmh when the static pressure is at 150Pa. Therefore, the JH18-B series is not only suitable for commercial places that require low noise, but also for applications that require longer air ducts.
In addition to the technical upgrade for fan system, JH18-B series have more upgrade as follows:
1.The water pipe has changed to black PVC pipe , increase thickness from 2.5mm to 3.5mm, hardness of 65.
2.The water pipe locker has changed to POM plastic material, that can solve the rust problem on stainless steel pipe locker.
3.The water pump is also upgraded to heavy power pump, can achieve 220V 50HZ/60Hz compatibility;
4. Can support 120mm thickness cooling pad, more cooling efficiency.

Evaporative air cooling technology has been developed for nearly 20 years in China. The advantages of energy saving and environmental protection, making it increasingly prominent in ventilation and cooling industry.

Adhering to the superb craftsmanship spirit, , JHCOOL will continue to focus on technological innovation of evaporative air cooler. With excellent designers, experienced technicians and strict supervisors working together, JHCOOL will bring new and high-class products to clients all the time.